Aquapark is the first themed water park in Croatia. It is located in the family part of the Amadria Park Šibenik, next to Kids Hotel Andrija and Family Hotel  Jakov.
Numerous slides, nozzles, sprinklers and waterfalls are only part of the fun adventures. A variety of activities and attractions such as the extremely popular "lazy river", a large barrel at our rain fortress and kids zone extend to over eight thousand square meters. Children and adults both enjoy in numerous water effects and pools of Aquapark Dalmatia.
Aquapark can accommodate 1,000 people at a time. All visitors can rest easy because professional lifeguards keep watch all day and care about safety in the Aquapark. So feel free to enjoy the water adventures, let the lazy river lead your way, pass below the large barrel that pours water on visitors from the highest point in the Aquapark at 13.5m every few minutes to the great joy of all adventurers. Children's world consists of a kids zone and a new fairy-tale cave you can pass through designed in lively colors. We are sure that fantastic world and a variety of cheerful figures will delight your children.
The Aquapark daily ticket offers a full-water adventure, beach chairs, parasols, showers and warderobe facilities. Snack bar Splash offer includes food and beverages, here you can find refreshments or enjoy in our homemade ice cream.
Immerse into the world of wild water adventures! Experience the best water attraction on the Adriatic.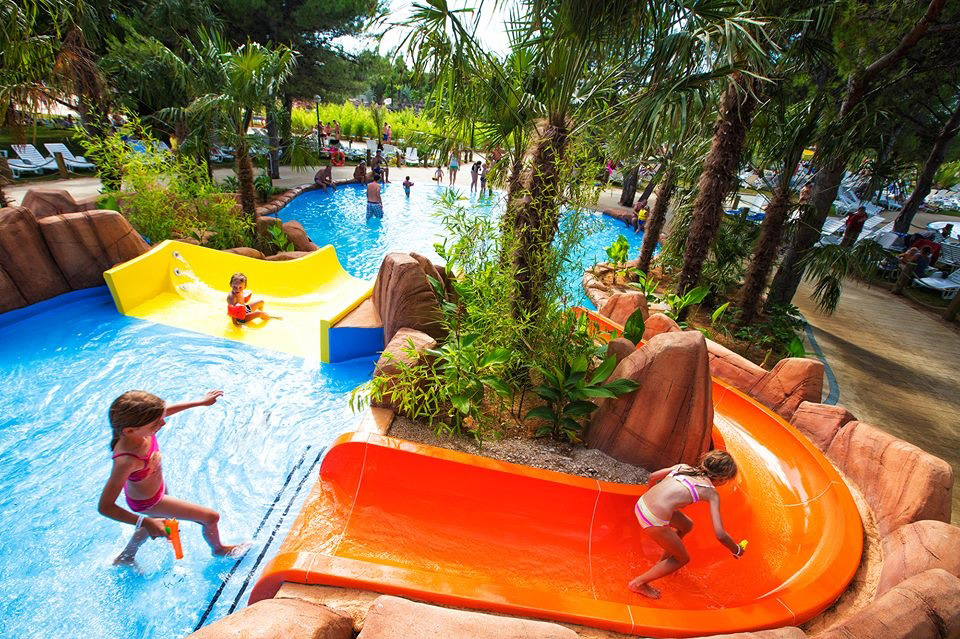 About Amadria Park Šibenik
Amadria Park Šibenik is a unique tourist complex in Sibenik. It's best known for 5 thematic beaches that stretch over four kilometers long coast. Surrounded by beautiful Mediterranean vegetation it provides comfortable accommodation in a great location, many attractions and modern interior.
The offer of the resort includes 5 hotels from 3 to 4+ stars. All are equipped with outdoor pools, luxurious air-conditioned rooms, internet access, parking, souvenir shops and currency exchange. The diverse extra services and content-packed attractions, restaurants with excellent cuisine, beach clubs and bars turn into Solaris in a place of memorable entertainment and fun experience.
It's an ideal choice for a carefree holiday. Be sure to check out why.
More about Amadria Park: https://www.amadriapark.com/